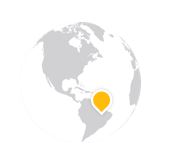 Operational and extreme current statistics were required by our clients for the design of a drilling program to evaluate offshore Oil & Gas reserves.
The objective of the project is to provide ocean current criteria for the operation of deepwater drilling platforms and for future production platforms.
Woods Hole Group, subsidiary of CLS, provides the technical mooring design, equipment, and oceanographic consulting services.
Our Solutions
We design deep water moorings to obtain full water column ocean current measurements
Our experts compile and analyze data to produce statistics for both operational and extreme conditions. The output information coud be presented in summary reports, with an executive summary and analysis discussion. Data also could be delivered in tabular and graphical forms.
Deepwater Mooring Program
Met-ocean Conditions Affecting Oil & Gas Operations
Operational, Extreme and Directional Statistics for Regional Currents
Seasonal Variability of the Met-ocean Conditions at the Site of Deepwater Oil & Gas Operations